Overview 
Energetický a průmyslový holding (EPH) is a leading Central European energy group that owns and operates assets in the Czech Republic, the Slovak Republic, Germany, Italy, Ireland, the UK, France, the Netherlands and Switzerland. EPH is a vertically integrated energy utility covering the complete value chain ranging from highly efficient cogeneration, power and heat generation, natural gas transmission, gas storage, as well as gas, heat and electricity distribution and supply. The scope includes also trading and logistics platforms, gas infrastructure management, and real estate development.
The companies in the group
employ more than 24,000 people. 
EPH seeks to achieve excellence in all aspects of its operations. EPH ranks among the leading electricity producers based in the Czech Republic and is the second biggest electricity distributor and supplier in Slovakia. It is also an operator of the most robust transmission network in Europe, a key transporter of natural gas to Europe and the biggest gas distributor in Slovakia. 
EPH comprises of over 70 companies structured in three pillars EP Infrastructure, EP Power Europe and EP Logistics International.
EP Infrastructure (EPIF) is an energy infrastructure utility focused on gas transmission, gas and power distribution, heat and power generation and gas storage. With principal operations in the Czech Republic, Slovakia and Germany, EP Infrastructure is a unique entity with a large and diverse infrastructure asset base.
EP Power Europe (EPPE) is focused on the development of a coherent power generation portfolio in Europe. Currently, our main activities are concentrated in Italy (thermal power generation assets, biomass power plants), Slovakia (power generation from various sources within the company Slovenské elektrárne), Germany (lignite mining and power generation), the UK (CCGT power stations Langage and South Humber Bank, biomass conversion project Lynemouth, thermal power plants and one operational energy storage facility in Northern Ireland), Ireland (CCGT plant) and France (production of electricity from conventional and renewable sources and sale business).
EP Logistics International (EPLI) was created based on EPH's subsidiaries, which deal with logistics specializing in business partners´ transport needs. The range of activities include not only rail freight, freight forwarding, rental of railway rolling stock and intermodal operations, but also staffing and training of employees for railway work. It offers premium services and complex logistics solutions.
History
In 2009, J&T Group and PPF Group founded EPH. Independent platform for strategic investments in the energy and ancillary industries. 
EPH's management team began to take shape in 2001 within the corporate investment branch of J&T Group, headed by Daniel Křetínský. EPH's team quickly developed into a strategic investor focused on corporate investments in the energy industry. 
EPH established a solid track record, growing through acquisitions and organic projects, before reorganising the business in 2016 and establishing the first two pillars (EPIF and EPPE) later accompanied by one more pillar (EPLI) that make up the group today.
Daniel Křetínský holds 50% plus one share (exercising the management control), while  J&T Energy Holding a.s. controls 44% minus one share in EPH. The remaining 6% is controlled by a group of EPH managers.
Company Structure
EPH is built on four pillars, EP Infrastructure, EP Power Europe and EP Logistics International covering the areas of infrastructure, power generation & mining, logistics & coal trading and renewables. These areas include businesses in the Czech Republic, Slovakia, Germany, Italy, the UK, Ireland, France and Switzerland.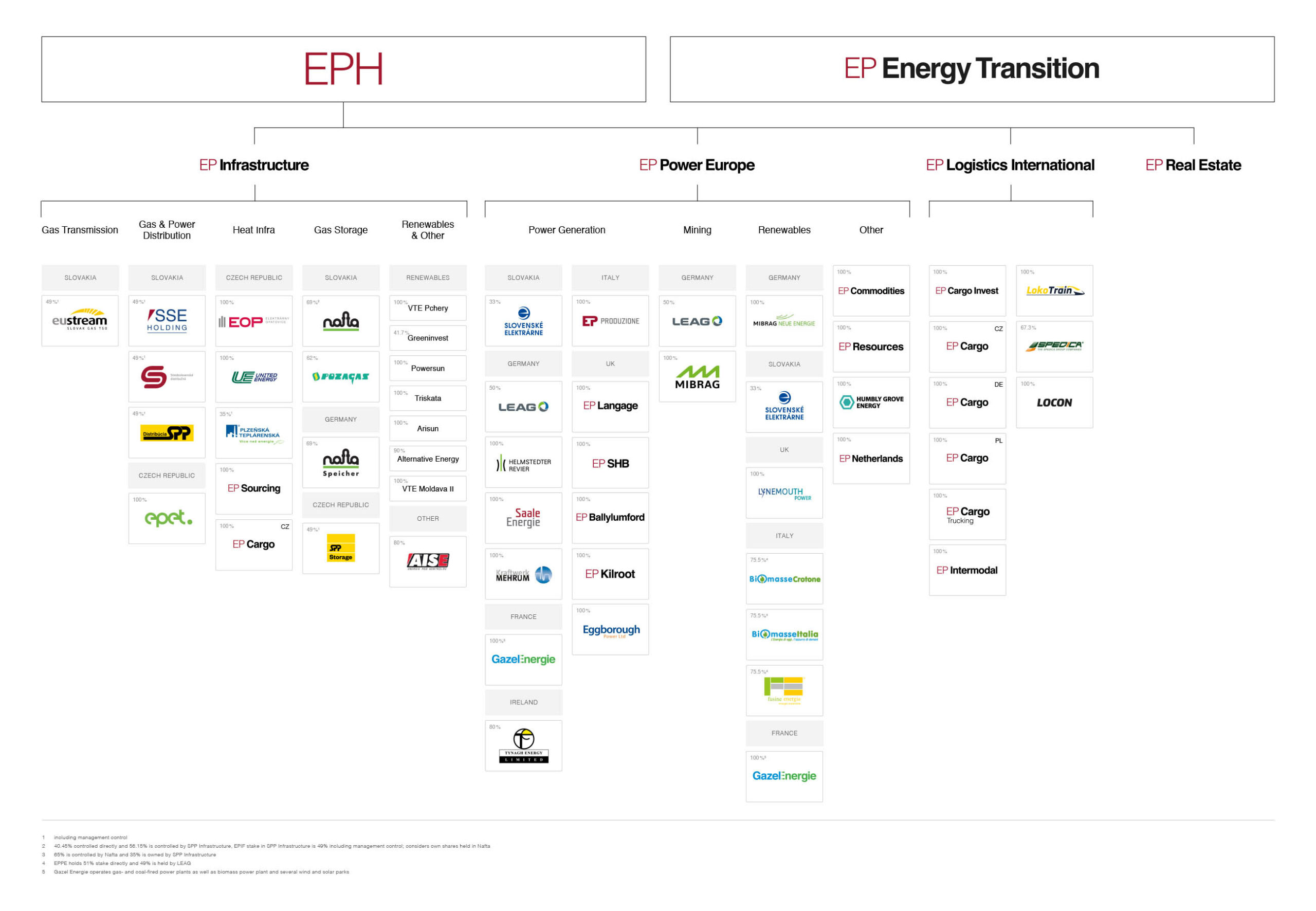 Download the Structure Chart here.