LEAG Announces Commissioning of Leipheim Gas-fired Power Plant
16. 8. 2023
Energy Transition Gains Momentum with Network Stabilization Projects 
In order to ensure energy supply reliability, LEAG, co-owned by EPH through its subsidiary EP Power Europe, has commissioned its first gas-fired power plant in Southern Germany near Ulm. The 300 MW Leipheim gas-fired power plant will play a crucial role in securing Germany's energy transition. 
"We are proud that the construction of the gas-fired power plant in Leipheim and the associated grid connection was completed on schedule and in record time for such a project. It was a major challenge for the entire team and we are now pleased to be a crucial part of the security of supply infrastructure in Bavaria," said Jan Špringl, CEO and Vice-chairman of the Board of Directors of EP Power Europe.  
At the inauguration, Bavaria's Prime Minister, Dr. Markus Söder, emphasized the importance of gas power plants for supply security and network stability. 
As regards the operation of the Leipheim power plant, the facility will be used exclusively at the request of the grid operator, Amprion, which commissioned it to ensure network stability during the shutdown of nuclear power plants and the parallel coal phase-out. The Leipheim power station was established as a special technical network asset within the Amprion network area, as defined in the Energy Industry Act.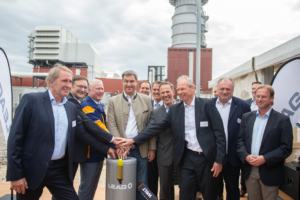 Source: LEAG